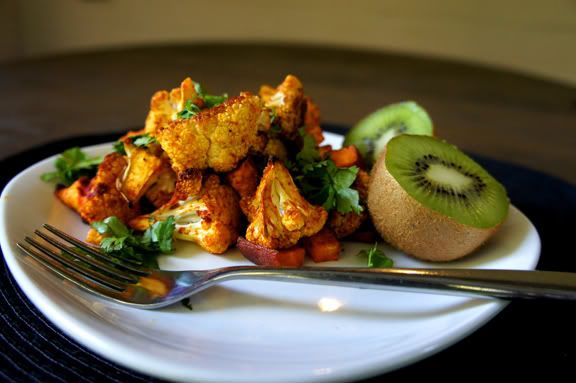 If you've been to the Ten Ingredient Project
homepage
recently, this cauliflower might look familiar. Actually, the version pictured on the website is a real
recipe
from Epicurious, and the version here is my hurry-up-and-cook-while-baby's-sleeping recipe, maybe also the I'm-crap-out-of-onions recipe. I was surprised to find that sweet potatoes added so much deliciousness to this and that overall, minimalist curried cauliflower tastes just as good as its more complicated counterpart. One secret is to use a really flavorful curry powder, i.e. one you've ground up yourself from whole spices (recipe to come--wear your spice snobbery with pride.)
I completed this light meal with a sweet and zingy organic kiwi that my mom sent in my birthday package. Oh yeah, I'm 28 now. That's almost three meal's worth of ingredients! ;)
5-Ingredient Curry Roasted Cauliflower
Prep Time: 10 minutes. Cook Time: 40 minutes. Serves 2.
1 head cauliflower
1 sweet potato
1/4 cup extra virgin olive oil
2 Tbls. apple cider vinegar
small handful fresh chopped cilantro
Free Spice Blend
1 tsp. good curry powder
2 tsp. paprika
sea salt to taste
Preheat oven to 400. Rinse cauliflower, chop into even bite-sized florets, and place in a large mixing bowl.
Dice sweet potato into small cubes, about 1cm across (woah, metric!). Combine with cauliflower.
In a small bowl, whisk togetherolive oil, vinegar, and spices. Pour over vegetables and toss.
Arrange veggies on a large baking sheet and bake for around 40 minutes, until cauliflower is tender and browning a bit at the edges.
Scatter cilantro on veggies; serve.