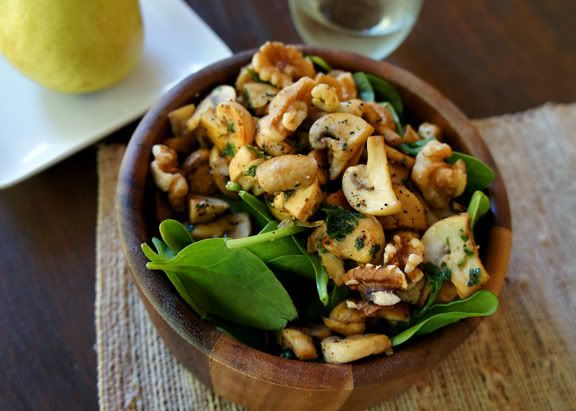 I've been really into mushrooms lately. I used to have some weird psychological issue with eating fungi, which I cannot be more thankful to have overcome. Not only are mushrooms rich in antioxidants and B vitamins, (
even white buttons!
) they're also just really freaking tasty.
So now that I've come to my senses, I look for excuses to eat piles of mushrooms in one sitting, main-course style. I've tweaked this recipe several times and I think it's perfect now, thanks to the addition of fresh parsley suggested in a similar recipe in Vegetarian Times.
Pouring the hot mushrooms over fresh raw spinach wilts some leaves while others remain crisp; the tangy/sweet balsamic flavor is all the dressing you'll need.
I enjoyed this meal with a juicy organic pear (ingredient #8) and a glass of white wine (#9) and I felt all French and fancy. You too can feel French and fancy! Enjoy.
7-Ingredient Balsamic Black Pepper Mushrooms
Total Kitchen Time: 20 minutes. Serves 1.
10 medium-large white button mushrooms, sliced to medium thickness
3 cloves garlic, sliced longways
1 Tbls. olive oil
splash balsamic vinegar
2 Tbls. fresh parsley, chopped finely
1/4 cup raw walnuts
2 cups fresh spinach
Free Spice Blend
LOTS of freshly ground black pepper
sea salt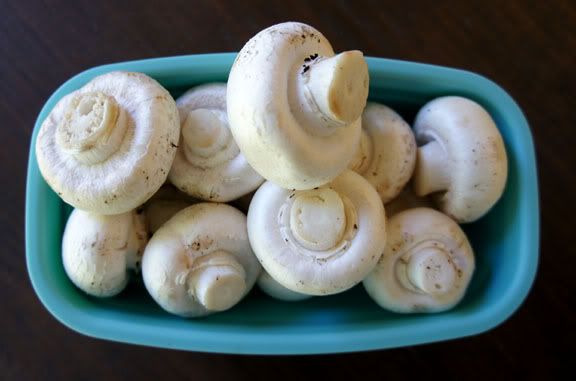 Drizzle oil into pan over medium heat and fry garlic until translucent; about 1 minute.
Add mushrooms. Spread them evenly across the bottom of the pan and then DON'T TOUCH THEM for 10 minutes. This part is really hard (for me). Be sure the pan is hot enough to keep up with cooking off any liquid the mushrooms might release.
After ten minutes of heroic patience, stir gleefully, enjoying your beautifully browned shrooms. Add balsamic vinegar and cook 2 more minutes, or until no liquid remains.
Toss parsley into pan and remove from heat promptly. Grind salt and plenty of black pepper onto mushrooms and stir thoroughly.
Pour mushrooms over fresh spinach, sprinkle with walnuts and serve.