Reasons to make your own curry powder:
1) This stuff is obscenely fresh. No little foil seal on top of store-bought jars can compete with the bold and vibrant flavor of whole ground spices.
2) Spices have potent healing properties, and grinding your own in small batches ensures that the antioxidants and phytonutrients stay locked in the spices as long as possible.
3) If you're like me (nerdy), you'll jump at the chance to buy some new spices that you don't normally cook with (fenugreek, anyone?)
4) Spices are FREE when you're cooking ten ingredient meals!
5) It's a pretty nifty bit of know-how. If cooking with your own homemade curry powder doesn't impress a date, it's time to get a new date.
To make this curry powder, you'll need a standard coffee grinder
à la Walmart and a small airtight jar. The recipe is modified slightly from
this one
; I cut back a little on the coriander.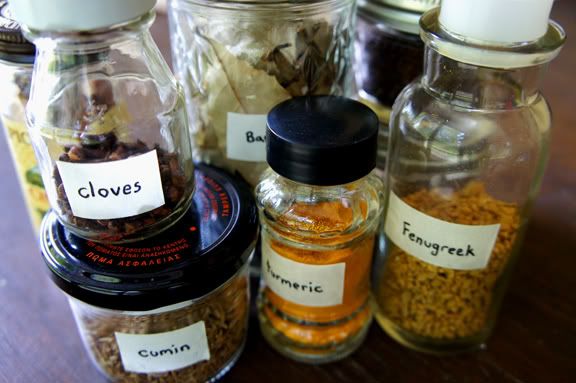 Fresh Ground Curry Powder
Total Kitchen Time: 10 minutes. Makes enough for 8-10 curries.
4 tsp. coriander seeds
1 tsp. fenugreek seeds
2 tsp. turmeric powder (turmeric is a rhizome like ginger, so it's the one spice that doesn't work "whole" in a curry powder.)
1/2 tsp. cumin seeds
1/2 tsp. black mustard seeds
1.5 inches of cinnamon bark
5 cloves
1 bay leaf
Combine all spices except turmeric in grinder and grind until very fine. Transfer to airtight jar and stir in turmeric. Use in curries, as a popcorn seasoning, on baked sweet potato fries, etc. etc.!